YOUTH CLASSES
Confidence and Strength
Happy, healthy, active kids see physical activity as play, not work. All of our youth fitness classes are fun and playful, and we help kids with any ability be their best. Our focus on movement education envelops our core values: respect, responsibility, humility and fitness. We challenge student athletes to improve their skills and we help kids who need extra encouragement reach new heights. We also offer private and semi-private training for children.
BE
YOU

Let's mix fitness and fun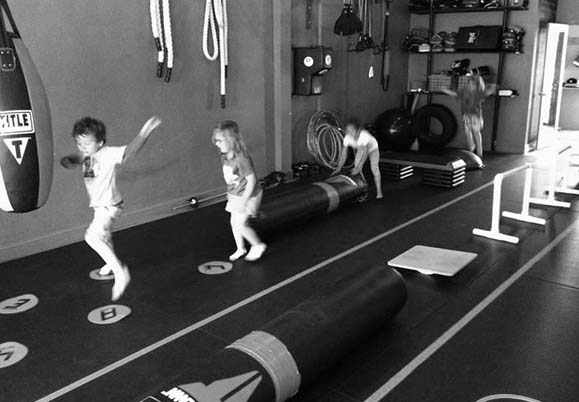 FITNESS CAMP
(45 MINS)
Kids love our fitness classes because they're fun. Parents love them because they're safe and challenging. We're parents, too. We get it. We all want kids to move, get stronger and improve their coordination. While some focus on improving athletic ability, others can achieve weight-loss goals or simply spend more time in motion.
SIGN UP
YOUTH MUAY THAI
(45 MINS)
Our Kids' Muay Thai kickboxing classes reinforce mental focus and determination as much as they develop physical skill. We are not in the business of "selling belts." We help develop healthy kids with strong minds and strong bodies, while the kids have a blast learning new skills.
Registration fee required. Fee includes gloves, t-shirt, shorts and D&I sports bag. Contact the gym.
SIGN UP
ACRO AND CONDITIONING
(45 MINS)
Acro & Conditioning is an introductory class to inversion and tumbling training. In this class, kids will engage in conditioning exercises and games that are specific to stabilizing and supporting their body for proper acrobatics. Inversion training will not only improve core stability but will also improve their spatial and proprioceptive awareness
SIGN UP
SPEED AND AGILITY
(SEMI-PRIVATE OR PRIVATE)
This private and semi-private training program is for aspiring and competitive student athletes. We can work toward a specific milestone like a tryout or a race, or help improve agility, strength, coordination, flexibility and confidence for any sport. It's also a great way to refine and improve skills in the off-season. Please give us a call to talk about your specific goals and schedule a session.
Contact the Gym
Youth Running Group
YOUTH RUNNING GROUP
This program is designed to introduce children to the love and health benefits of running.  It will be six weeks of 45 minute sessions which will include discussions on running form, conditioning & strength training and having fun while getting a few miles in!
We will train them to run a 5k comfortably, with an end goal of running in a local 5k.
We are working on the dates for the next session – be check back periodically and we will update as soon as we can.
Ages 8-12.
Cost:  6 weeks/$120.
YOUTH MEMBERSHIP
YOUTH FITNESS
CLASS PASS
1 class
$30
4 classes
$100
8 classes
$176
12 classes
$240
24 classes
$360
BIRTHDAY PARTIES
D&I FITNESS FUN
Our certified instructors will make sure your child's birthday is awesome for him/her and totally easy and convenient for you.
Parties Include:
One hour of fitness or kickboxing including fun music, games, drills with certified, fun instructors
1/2 hour additional celebrating (food/paper goods not included in cost but can be added for additional charge)
Set-up and clean-up
Gift for birthday child
Themes available by request
Parking available
$300 for up to 15 children; $100 deposit required to reserve date and time.
BOOK YOUR PARTY